Bucket Truck Sales, Service, Parts, & Warranty
Bucket Trucks, Digger Derricks & Cable Placers
Versalift Canada sells and services new and used bucket trucks, digger derricks and cable placers to fleet and contractor customers across Canada. A wholly-owned distributor of  Versalift equipment, Versalift Canada was launched when Time Manufacturing Company acquired Calco, a leading distributor, in 2021.  Versalift Canada provides sales, equipment service, hydraulic systems testing, maintenance, training and mobile, on-site service. Versalift Canada services all major brands of aerial lift from 9 to 90 meters.
LOWER TRUE COST OF OWNERSHIP
Versalift provides its customers with a lower True cost of ownership for two reasons.
1) Smarter Design:– Versalift equipment is designed to be lighter and stronger, which results in greater payload capacities and reduced maintenance costs. With no required aerial lift tear-downs and non-lube bearings, Versalift equipment is designed to be easier to maintain.
2) More reliable design – Versalift equipment features the lowest warranty rate in the industry and dramatically fewer recalls than other equipment manufacturers.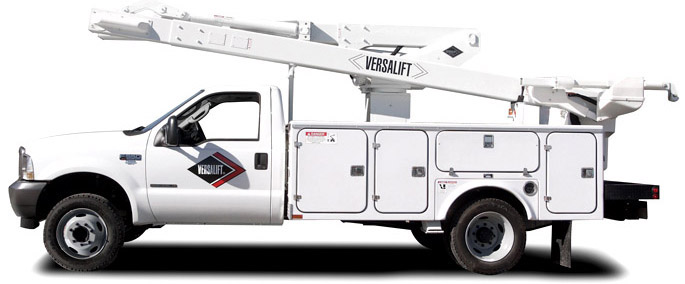 About Versalift Canada
Bucket trucks for electric utility, telecommunications, forestry and municipal fleets available through Versalift Canada. With state of the art facility locations in Alberta and British Columbia, Versalift Canada sells, installs and services new Versalift aerial lifts and builds partnerships with fleet customers. We work to ensure safety, quality and reliability in every bucket truck, digger unit and cable placer we deliver.  Versalift Canada supports essential businesses across the entire Canadian market.
BUCKET TRUCK FINANCING & LEASING
Bucket truck financing, leasing and customized structured payment programs are available to valued customers in Canada through Versalift Capital. Mike Fitzsimmons and the team at Versalift Capital are typically able to respond i a few hours, working quickly to provide fleet and contractor customers with a set of competitive and flexible options.
Why our customers value Versalift Capital:
Personalized Service
Speedy Approval
Strong Residual Values
Leasing & Financing Options
Disposition Options Available
We Stock Bucket Truck Parts
As a full-service distributor of bucket trucks, we stock commonly requested parts for Versalift equipment and maintain an inventory on hand of all maintenance items needed to help you with fast turnarounds. Stocked components, parts and accessories include:
Pumps and PTOs
Pintle and Tow Hitches
Outrigger Pads
Hydraulic Hoses and Fittings & Biodegradable Oils
Hydraulic Tools and Accessories & Truck Toolboxes
Go Lights, Strobe Lights & Beacon Lights
Aerial Safety Equipment
Auger Bits & Tooling
Power Inverters & Air Compressors
Safety Decals, Placards & Winch Rope
Parts & Service
Bucket Truck Parts and Accessories Available Through Versalift Canada
At Versalift Canada, we are able to identify and obtain the parts your equipment needs to remain in service, and have a service department that can quickly and efficiently maintain your equipment. Our parts and service departments together make a knowledgeable and dependable team that supports our clients' need to get their equipment back on the road.
Versalift Canada is an OEM parts supplier for:
Versalift, Condor, Phoenix, and Ruthmann Aerial Devices

Braden Winch Products

Masterrack Van Interiors

Sortimo Van Interiors

Reading Truck Bodies

Brand FX & Dakota Bodies

Liftmoore Cranes

VMAC Air Compressors
The Links to the Right Will Take You to Versalift.com For the Most Updated Specification on New Aerial Lifts
Versalift Canada Service
Hours of Operation
Monday – Friday, 7:00am to 5:00pm.
Our factory-trained service team ensures that quality is maintained throughout the customer service and equipment service processes. Our service department works to get your equipment repaired properly and back in service as quickly as possible. Combined with the resources of our parts department, our service team is able to deliver quality work on a tight timeline.
Annual Inspections
Mobile Service 
Planned Maintenance
We Repair all Makes and Models
Contact our service department to schedule an appointment.
Service Facilities
Alberta
8803 60 Avenue
Edmonton, Alberta T6E 6L9
604-525-1074
Parts Department
British Columbia
866 Derwent Way
Delta, British Columbia V3M 5R1
604-525-1074
Parts Department